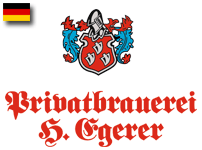 Egerer - Beer
Wilhelm Egerer, owner of a smokeless tobacco manufactory, founded the beverage factory in Großköllnbach in 1920.
Heinrich Egerer, Wilhelm Egerers son, buys the brewery from the former Will'schen brewery from the neighboring town of Landau.
In 1931 Eger beer was brewed for the first time in Großköllnbach.
The particularly pure, high-quality water is the basis for the success of the Egerer brewery. In the untouched depth of 147 meters the 'Heinrich-Franz-Quelle' springs.
Since 1987 as mineral water state approved and according to medical opinion for drinking cures particularly suitable. Water from the Heinrich-Franz-Brunnen is used for mixed beverages as well as for Eger beers.
The family business Egerer now produces and supplies in the fourth generation.
You want more information?
Send an e-mail
or
call 2815-2593