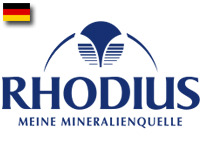 Rhodius - Softdrinks and water
Non-alcoholic quality drinks in 0.33l cans with shelf lifes of 18 or 24 months.
AfriCola - the german cult cola since 1931
Well-known by consumers, convincing taste, unique and appealing design and comes as regular and sugarfree.
Apfelschorle - apple spritzer with natural RHODIUS mineral water
55% fruit content, without added sugar (contains sugar by nature), healthy and thirst quenching.
Mineral water - pure and natural from the Volcanic Eifel in Germany
• 151 mg/l magnesium (1 liter covers 40% of the daily recommended requirement)
• 143 mg/l calcium (1 liter covers 18% of the daily recommended requirement)
The water comes from a ca. 500m deep original artesian spring in enriched dolomite bedrock with naturally carbonic acid, protected against outside influences.
Maya Mate - softdrink with yerba mate-tea
Vegan, exotic different taste and a refreshing alternative to energy drinks.
You want more information?
Send an e-mail
or
call 2815-2593