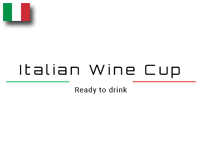 Italian Wine Cup
Ready to drink
Wine Cup is Italian quality wine sold in 100% recyclable PET cup, in single dose solution of 187ml, ready to drink, vacuum-sealed and with a shelf life of 10-12 months.
Our project is in collaboration with winery Casa Vinicola BOTTER located in Fossalta di Piave (Italy). We have an annual productive potential of 12 millions pieces and a daily production operative 24 hours a day.
We export the 95% of our turnover and we have all the necessary certifications for any type of market, including BRC, IFS and ISO.
Alle wine cups contain wine from a vineyard located in the Veneto region with 12% vol. alcohol and 7 gr/l residual sugar. They come in the following variations:
CHARDONNAY D'ITALIA
TYPE: Dry white wine
GRAPE VARIETY: Chardonnay
COLOUR: Straw yellow
AROMA: Fresh, crisp melon and lemon characters on the nose
FLAVOUR: Full bodied, tropical fruit and citrus fruits flavours
SERVING TEMPERATURE: 8-10°C
ROSÈ IGT VENETO
TYPE: Young rosè wine, medium-bodied
GRAPE VARIETY: Cabernet and Merlot Grapes with Rosé vinification
COLOUR: Rosè with Violet reflections
AROMA: Fresh and light with red berry notes on the nose
FLAVOUR: Delicate red berry characteristics with a crisp finish
SERVING TEMPERATURE: 8-10°C
MERLOT D'ITALIA
TYPE: Red wine
GRAPE VARIETY: 100% Merlot
COLOUR: Ruby red
AROMA: Floral red berry notes with a hint of black pepper
FLAVOUR: Smooth and fruity with black cherry, plum and blackberry notes
SERVING TEMPERATURE: 15-18°C
You want more information?
Send an e-mail
or
call 2815-2593