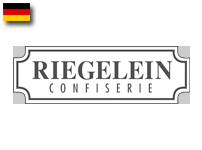 Seasonal chocolates
Cocoa - The 'brown gold' of the gods
Good news for all chocoholics: it has long since been proven by scientists that
chocolate makes us happy
! Several components of cocoa, the main ingredient in the production of chocolate, are responsible for this. The brown beans have been treasured since 1500 B.C.
In fact, the Mayans and Aztecs viewed cocoa as the 'food of the gods' and for a long time it was reserved for kings and nobility only.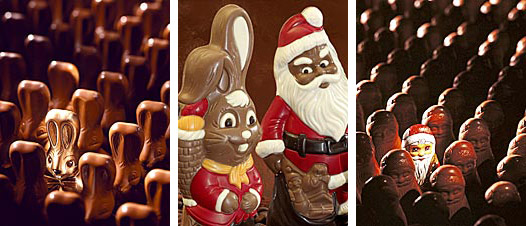 Easter chocolates
Easter is going to be colourful, happy and really sweet! Discover Riegelein's Easter Bunnies and Easter Eggs as an ideal decoration for a festive Easter table. The other Easter products make people smile as well! The sweet chocolate bunnies are almost too good to be hidden!
Halloween chocolates
When the candle light flickers through the hollow pumpkins and blood-curdling horror stories are told, you know that Halloween has come once more. Originally, the purpose was to dispel the bad spirits of the approaching winter season in the night of October 31st.
Christmas chocolates
Christmas marks the birth of Jesus Christ and is one of the most important holidays. Families come together to sing Christmas carols, to lovingly decorate the Christmas tree and, of course, to exchange gifts. No matter whether it's Father Christmas or Santa Claus who brings the gifts, chocolates are always a real favorite in any Christmas celebration. Confiserie Riegelein offers a variety of delicious Christmas articles such as chocolate miniatures for in-between or giant-size chocolate Santas.
Fair play wins

Since Christmas 2016 all products marketed under Riegelein are part of the Fairtrade Cocoa Program which enables farmers to sell more cocoa under the known Fairtrade standards.
Riegelein is systematically applying the Fairtrade standards to its hand-decorated confiserie articles. The Fairtrade mark is an independently controlled product seal certifying that the international Fairtrade standards have been met.
Award-winning quality chocolate from Riegelein
For the production of our own chocolate mass, the best is only just good enough for us. Only the finest select raw materials such as choice cocoa, cocoa butter, full-cream milk and sugar are processed and continually undergo the strictest controls. This is how we ensure the highest quality.
First-class ingredients call for gentle processing. The most modern conching and rolling equipment with a high degree of care for the Riegelein figures, which are mainly made from full-cream milk chocolate to achieve a delicate glaze is one of Riegelein's hallmarks. Our fine milk chocolate with a cocoa content of 33% is very popular.
You want more information?
Send an e-mail
or
call 2815-2593