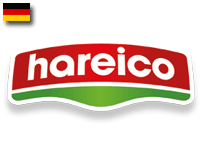 Sausages from Germany
Highest quality is an obligation, from the delivery of raw materials up to the supply of the finished products to the customers. The german manufacturer of our range of meat products does not only rely on state-of-the-art analysis technology.
Also every day trained employees test the sausage products. They test taste, consistence, scent and appearance. They make no compromises and promise optimum quality which they delivered for more than a hundred years.
Try the
Original Bavarian Weisswurst
• The probably most traditional of all meals in Bavaria is the "Weisswurst", a Bavarian-style sausage with its popular seasoning. Usually it is eaten as a late breakfast, because Bavarian tradition has it, that a Weisswurst may never hear the churchbells at noon. Weisswurst is commonly served with Bavarian
sweet mustard
and accompanied by "Pretzel" and "Weissbier". To prepare your private "Oktoberfest" boil water, but then heat the Weisswurst in the water below boiling point.
Our variety of hareico sausages
• Mini Rostbratwurst'l Sausage
• Wiener Wurstchen Sausage
• Weisswurst Sausage
• Zwerge Schinkenbratwurst'l Sausage
• Frankfurter Sausage
• Grillbratwurst
• Currywurst
• Schinkenkrakauer
You want more information?
Send an e-mail
or
call 2815-2593