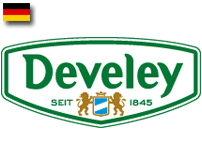 Develey mustard
Born in Bavaria, at home all over the world
Develey has extended its Bavarian roots and is today one of the leading producers of mustards, dressings, and sauces in Europe, exporting to more than 65 countries worldwide. In 1971 Develey started its business relationship with McDonald's which has enjoyed great success over the last 40 years. From the 1970's on subsidiaries have been founded in Italy and Poland. Several European condiment brands are part of the Develey group: Reine de Dijon, Mautner Markhof, Löwensenf, Bautz'ner, Specht, Snico, Kand, and Fersan. Develey is proud to be the exclusive distributor of international brands, such as TABASCO®, Kikkoman, Patak's, Del Monte or Gatorade in several countries.
Develey invented the sweet mustard
In 1845 Johann Conrad Develey founded his small mustard manufactory in the city center of Munich, Germany. In those days all mustards were produced following the Dijon method. However nine years later, in 1854, he invented the Original Munich sweet mustard, a product that has become the indispensable accompaniment of Bavarian white sausages ("Weißwurst"). In 1873 Johann Conrad Develey received an award for inventiveness at the world trade exhibition in Vienna and was named purveyor to the court of King Ludwig II one year later. At the age of 64 the entrepreneur passed away and was honored with a memorial grave by the King. His innovative spirit and passion for quality still inspire us today.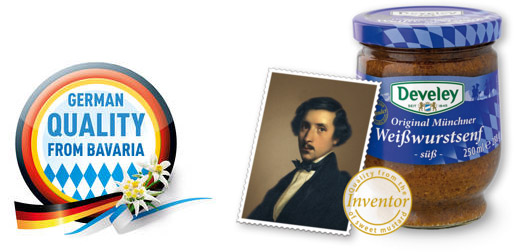 Products
• 250 ml glass jar of Medium Hot Mustard
• 250 ml glass jar of Original Munich Sweet Mustard
• 250 ml glass jar of Herbs Mustard
• 5000g bucket of Medium Hot Mustard
• 5000g bucket of Original Munich Sweet Mustard
Develey
is the proud winner of the award
TOP MARKE 2016
(top brand 2016) in the category Würz-/ Cocktailsaucen (condiment / seasoning / cocktailsauce). Every year, the
Lebensmittel Zeitung
awards this signet in 100 categories. Only one of 5,000 brands can win in each category.
You want more information?
Send an e-mail
or
call 2815-2593