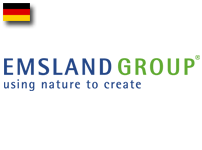 Potato specialties
Fresh from the field
These products are made from carefully
selected potatoes and ingridients.
You will taste it!
Potatoes from farmers in the region known and trusted for a long time. They arrive from a short distance, so they are fresh and carefully processed. That's why the natural flavor of the potatoes remains intact.
Combined expertise for natural enjoyment
As part of the EMSLAND GROUP, Mecklenburg Kartoffelveredlung GmbH is the point of contact for the products for the food retail industry and wholesale consumers. Within the Group, the company is specialized in distributing the range of products manufactured at the Hagenow plant. The 'Kartoffelland' brand therefore offers high-quality, convenient products from packaged potatoes for the end customer.
We recommend these products
• Potato Dumplings
• Potato Bread Dumplings
• Potato Mash
• Potato Puree
• Potato Soup
• Potato Pancakes
• Potato, Fried with Ham
• Potato, Fried with Onions
HoReCa packages
Potato püree - 175 servings, 5 kg
Potato püree with milk - 170 servings, 5 kg
Dumplings half & half - 2 x 180 dumplings, 2 x 5 kg

You want more information?
Send an e-mail
or
call 2815-2593