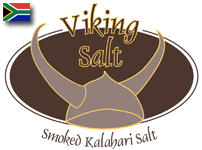 'Viking' Smoked Kalahari Salt
>>
Shop Smoked Kalahari Salt
In Northern Germany, near to the Danish border, the coarse Kalahari Gourmet Salt is being smoked according to Danish tradition in a smokehouse. Cold smoked for at least seven days over high-quality beech-wood the 'Viking' Salt gets its distinctive fine smoky taste.
In order to enhance the taste of the smoked salt and give it a typical African nuance, the smoke master adds to the beech-wood chips of a bio-certified Rooibos scrub (Rooibos tea).
The 'Viking' Salt is particularly suitable for grilled or roasted meat, but also very special for dishes with eggs, tomatoes, cucumber and fish.
It gives a mild smoky taste to your dishes.
You want more information?
Send an e-mail
or
call 2815-2593