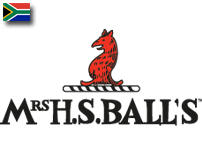 Mrs H.S. Ball's Chutney
>>
Shop Mrs H.S. Ball's Chutney
A unique South African
spicy fruit condiment
Available in three tasty flavours:
• Original Recipe Chutney
• Peach Chutney
• Hot Chutney
A recipe that survived a shipwreck
In 1852 when the SS Quanza was shipwrecked off East London, South Africa, en route from Canada to Australia, Captain Adkins and his wife were lucky to escape with not only their lives ... but also the blueprint for what was to become one of South Africa's culinary icons.
Making the best of their situation, Captain Adkins and his wife settled in King Williamstown. In 1865 their daughter, Amelia was born. She was later to marry Mr Herbert Sandleton Ball, a railway superintendent from Cape Town. As part of her coming of age, the young bride was given the coveted secret chutney recipe.
When The Great War broke out in 1914, the Ball's chutney was being made on a small scale and was either given as gifts to friends or sold at church bazaars. So popular became its wholesome, piquant and fruity flavour that the Ball kitchen was transformed into a makeshift production line. As demand continued to soar, Amelia and Herbert sought the assistance of Cape Town businessman Fred Metter, who procured both the octagonal jar and the oval label with which today's chutney lovers are so familiar.
Notions to name the product "Mrs H.S. Ball's Chutney™" went uncontested as were those to add the Ball family crest to the top of the label. The Woodstock factory opened in 1917 to meet escalating demand, and as exports to Great Britain increased, an even bigger facility was later opened in DiepRiver. In 1962 Amelia died at the age of 97, at peace that the secret recipe was known only to her son and to her grandson.
You want more information?
Send an e-mail
or
call 2815-2593