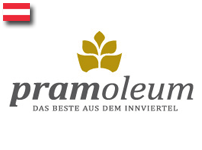 Pumpkinseed Oil
The Taste of Regional Quality
100% pure pumpkinseed oil
100% best austrian quality
100% vitality from nature
Nature is its main ingredient
pram
oleum
pumpkinseed oil is a true gift of nature - a natural specialty genuinely originating in the
Innviertel Region, Austria
. No other oils, no preservatives, no additives. The result is the unique flavor and the special character of the
pram
oleum
products.
Read more about the many
Pumpkinseed Oil benefits
which apply to this wonderful product because the brand we deliver to you is produced with special care.
The best ingredient for a sublime taste - a message from the producer
Our crops are grown with utmost care. An exceptional know-how, healthy soil,
optimal crop rotation and careful harvesting are the prerequisite for the
high quality of our pumpkin seed.

The pramoleum cooperative consists of 5 enterprises in the Pramtal Region.
We guarantee that our product is pure and unadulterated from growing to bottling.

We jointly ensure that only high quality pumpkinseed crops are used for our products. Exceptionalley careful pressing without industrial refining produces our
natural pumpkinseed oil with the characteristic, deeply nutty unique flavour.

A premium treat straight from the farm.
Guaranteed by pramoleum.
You want more information?
Send an e-mail
or
call 2815-2593