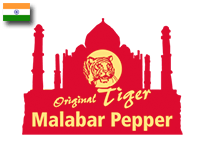 Original Tiger Malabar Pepper
>>
Shop Tiger Malabar Pepper
Gourmet Pepper from Southern India
Original Tiger Malabar Pepper is a tasty black Pepper from Kerala in South India. It is an organically grown, handpicked and sun-dried gourmet Pepper.
Due to its high content of essential oils this black pepper is considered the most valuable of all Peppers and has a very aromatic and fruity taste.
Accentuated with its fruity mild spiciness its use is very versatile.
You want more information?
Send an e-mail
or
call 2815-2593