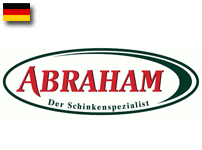 German Ham specialties
Abraham is one of the leading air-dried ham brands in Europe and the market leader for this segment in Germany. Their market presence has been strengthened considerably by the modern new package design.
As a full range supplier for smoked and air-dried ham Abraham offers today a wide program of first class products which are produced at various national and international facilities.
Cottage ham and organic cottage ham emanates from our facility in Seevetal/Germany. In Edewecht/Germany we produce the so called Ammerland ham. The facility in Schiltach in the Black Forest finally completes the line of our national located production facilities and delivers our Black Forest ham.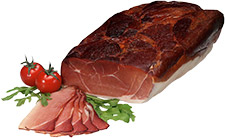 Our selected specialties for you
• Black Forest hams
• Black Forest ham sliced
• Noble ham cubes ( similar to bacon cubes )
• Country smoked ham sliced ( mildly smoked )
• Cottage ham sliced ( mildy smoked )
You want more information?
Send an e-mail
or
call 2815-2593