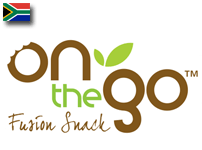 Nutritious snacks from
On The Go
On The Go was borne of RTE Snacks, a company launched in 2009 by Andrew and Rudene Brown.
With over 20 years' experience in the FMCG (Fast Moving Consumer Goods) business, we are dedicated to bringing you delicious, nutritious and convenient snacks for every occasion. For over 7 years, On The Go has been creating unique combinations of dried fruits, nuts, seeds and delectable added ingredients - with your busy lifestyle in mind.

We believe in healthy, ready-to-eat food that tastes great. Across our three ranges, delicious extras like chocolate drops and cherries bring traditional favourites like raw nuts and dried fruits to life. Enjoy accessible, portable and satisfying snack packs that are naturally gluten and cholesterol-free, and low in sodium.
You'll find our products in major retail chains - both here in South Africa and other countries. We are dedicated to ongoing growth and improvement, so keep your eyes peeled for new products as they hit the shelves.
You want more information?
Send an e-mail
or
call 2815-2593