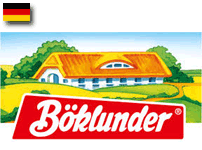 Sausages from Germany
The food company Böklunder stands for a variety of meat products, especially sausages. Böklunder was founded in 1934 and is named after the place Böklund in northern Germany.
As a sausage factory, Böklunder was the first company in Germany to introduce the largely automated production of sausages at the end of the 1930s, thereby initiating the sale of sausages in the glass.
Our variety of Böklunder sausages
• 6 American Hot Dogs 6, 300g drained net weight, 550g filling weight
• 36 Cocktail Sausages 36, 250g drained net weight, 380g filling weight
• 8 Landbockwurst sausages, 720g drained net weight, 1030g filling weight
You want more information?
Send an e-mail
or
call 2815-2593