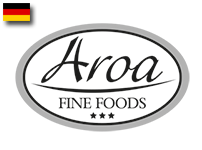 Aroa Olive Oil
Without any flavour enhancer.
Produced in Germany.
PORCINI Infused Olive Oil
This olive oil is infused with specially selected mushrooms from the "Boletus Edulis" variety. This mushroom gives the olive oil reminiscences of the autumn. Delicate combination for sauces, soups, creams and all kinds of cooked dishes with any meat.
LEMON Infused Olive Oil
A firm favourite. Particularly well suited for use with marinades, sauces, salads and much more. Try it drizzled over salmon steaks then baked in foil or for a stunning dressing.
GARLIC Infused Olive Oil
Versatile and ideal for dressings, pasta and marinades. Combine with a Balsamic Vinegar for a tasty dressing or marinade. Drizzle over a baguette and then bake it in the oven for really tasty garlic bread.
You want more information?
Send an e-mail
or
call 2815-2593