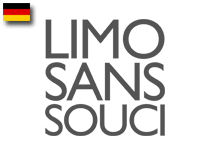 Limo Sans Souci
Original natural lemonade
Our high quality soft drinks are based on old recipes from grandmother's times. We use exclusively natural ingredients along with a high percentage of fruit share.
Especially for our kids and others who fancy soft drinks, we would like to offer something rare and captivating.
All our soft drinks are based on our
natural mineral water
from the L'eau Sans Souci source.
Try one of the following tastes
•
Pink Pomelo
•
Orange
•
Chardonnay
•
Lemon
You want more information?
Send an e-mail
or
call 2815-2593